Description
This circulated coin is uncleaned, shows wear and tear and is pressed on a copper-plated zinc penny.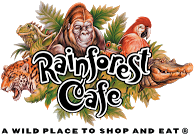 Two machines were in the Rainforest Cafe1 Gift Shop and they had plenty of Penny Books with a Penny of the Rainforest Cafe. One machine is to the left of the Gift Shop, next to the restaurant entrance. The other machine is at the right side of the Gift Shop, next to the animated alligator. These machines are available while the cafe is open only.
The 3rd Machine is located in the hallway leading from Las Vegas BLVD on the first floor into the casino and the Rainforest Cafe. Machine is available 24 hours a day. On Thursday, March 28, 2013 this third machine could not be located.
---
Source: PennyCollector.com ↩