Description

This circulated coin is uncleaned, shows wear and tear and is pressed on a copper-plated zinc penny.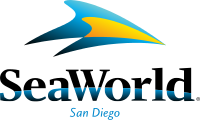 Sea World of San Diego1 now has 13 new Pennycollector 4 design Hand Crank Machines. While minor changes in the location of the machines do occur from time to time, they will always be found in the same general area within the Park.
Hours – 10:00 a.m. during fall, winter, and spring. 9:00 a.m. mid-June to Labor Day; Closing time changes frequently.
Driving – Exit west from I-5 onto SeaWorld Dr.

SeaWorld San Diego2 is an animal theme park, oceanarium, outside aquarium, and marine mammal park, located in San Diego, California, United States. The park is owned by SeaWorld Entertainment, a division of Blackstone Group.
SeaWorld San Diego is an accredited member of the Association of Zoos and Aquariums (AZA).

SeaWorld's main attraction are its killer whales3 , ten of which are housed in a 7 million gallon habitat known as Shamu Stadium. Shamu was the name of the first killer whale brought to SeaWorld San Diego in the 1965. "Shamu" is now used as a stage name for adult killer whales in performances at SeaWorld parks. All the killer whales all have individual names.

The park's killer whales are featured in the show One Ocean (day show) and Shamu Rocks (seasonal evening show), The Shamu Story (seasonal educational presentation), and Shamu's Christmas (holiday show).
Ten killer whales live at SeaWorld San Diego: Corky (F), Kasatka (F), Ulises (M), Orkid (F), Keet (M), Shouka (F), Nakai (M), Ikaika (M), Kalia (F), and Makani (M).
---
Source: PennyCollector.com ↩

Source: Wikipedia.org ↩

Source: Wikipedia.org ↩