Description

This circulated coin is uncleaned, shows wear and tear and is pressed on a copper-plated zinc penny.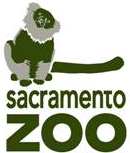 The Sacramento Zoo1 is a zoo located in William Land Park in Sacramento, California. It opened on June 2, 1927 with 40 animals. At that time it occupied 4.2 acres (1.7 ha), which remained the case until the early 1960s when the zoo expanded to its current 14.3 acres (5.8 ha). As of December 2012 the zoo had just over 500 animals on site.
They have two penny machines2 and both located inside the zoo, just outside of the gift shop.
Masai Giraffe3
(Giraffa camelopardalis tippelskirchi) – large giraffe with jagged, medium-brown to rust spots that fade into creamy white just below the knees. Males are substantially larger and have darker spots than females, with older males being the darkest.
---
Source: Wikipedia.org ↩

Source: PennyCollector.com ↩

Source: SacZoo.org ↩