Description

This circulated coin is uncleaned, shows wear and tear and is pressed on a copper-plated zinc penny.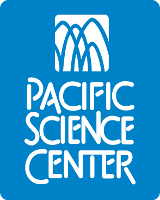 You must pay admission to the science center to get to the machines.1
The Pacific Science Center2 is a science museum located in Seattle, Washington and designed by Minoru Yamasaki for 1962 World's Fair in Seattle.
Pacific Science Center is an independent, non-profit science museum based in Seattle, Washington. It sits on 7.1 acres (29,000 m2) of land located on the south side of the Seattle Center. A satellite campus in Bellevue, Washington, the Mercer Slough Environmental Center, teaches children and adults about environmental stewardship, wetland ecology and nature awareness. Like many museums, Pacific Science Center creates, builds and rents many traveling exhibits. Pacific Science Center's outreach program, Science On Wheels, has a fleet of vans that bring hands-on science education to schools throughout the Pacific Northwest. The center also has a division of staff workers whose purpose is to assist teachers in teaching science to their students.
Dinosaurs: A Journey Through Time3
Travel back in time to the Mesozoic Era, where you'll meet seven moving, roaring, robotic dinosaurs in a lifelike environment. You can also stand in the footprint of a giant duckbill dinosaur, take the controls of the Pneumoferrosaurus — "Air and Iron Lizard" — to see how animatronic dinosaurs work, and explore the Mesozoic world with interactive exhibits, real fossils, dioramas and more.
Tyrannosaurus Rex "tyrant lizard king"
Late Cretaceous-70 MYA
50 ft long
Carnivore
At 50 feet long, T. Rex was one of the largest meat eaters ever to walk the Earth. Its large tail was held upright to counterbalance its heavy neck and jaws. T. Rex had bird-like hind feet and hollow bones. The Tyrannosaurus Rex Robot in Pacific Science Center's robotic dinosaur exhibit is half-size.
---
Source: PennyCollector.com ↩

Source: Wikipedia.org ↩

Source: PacificScienceCenter.org ↩