Description
This circulated coin has been cleaned, shows wear and tear and is pressed on a copper-plated zinc penny.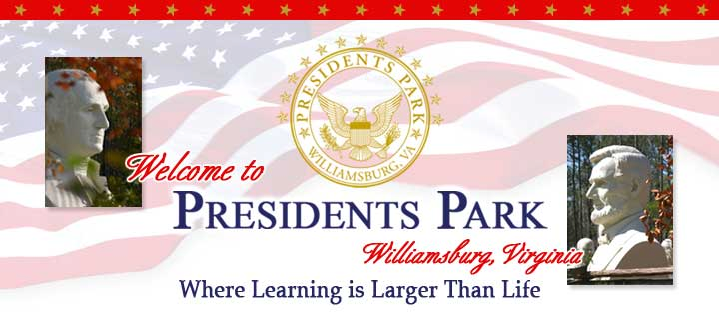 Presidents Park
1
was a ten-acre open air museum with presidential sculptures located in Williamsburg, Virginia, United States. It included 18 to 20 foot high busts of the first 43 Presidents of the United States from Number 1 (George Washington) to Number 43 (George W. Bush).
The park was opened in March 2004. The statues were sculpted by the internationally renowned artist David Adickes. David Adickes, a Houston artist, was inspired after driving past Mount Rushmore on a trip back from Canada. The park was closed on September 30, 2010, prior to getting the bust of the President 44, Barack Obama out of the gift shop. Default on the $3.3 million loan had the property put up for auction on April 26, 2012.
The mission of
Presidents Park
2
was to promote a better understanding of the American presidency, foster an appreciation for our presidents as individuals, encourage civic responsibility and involvement, and provide educational opportunities of the highest standards.
Only in Virginia's historic triangle and Presidents Park could you receive the entire span of our nation's history from the first permanent English settlement at Jamestown in 1607 to the present. Presidents Park offered a continuation of the all-encompassing lesson in American History, starting with Washington's inauguration in 1789, through, to the new millennium and the current war on terrorism. You learned about all 43 unique presidencies as you enjoyed a patriotic, educational and inspiring experience at Presidents Park in Williamsburg, Virginia.
Presidents Park was the creation of David Adickes, an internationally renowned sculptor and painter. The Park featured 16-18 foot busts of all 43 Presidents of the United States, placed in a garden setting. Presidents Park had established a Board of Education which reviewed educational material to ensure that the Virginia Standards of Learning were met. All content was also reviewed by the President Park's National Council of Scholars. The museum building on site housed classrooms, meeting rooms, a gift shop, café, banquet room, and other amenities.
The museum located on Route 199 and I64, across from Water Country USA is now closed. The machine was placed in 02/04. Costs at first a $1 a piece but was reduced on 7/3/2010 to only cost .50 a piece thereafter.
Designs:
3
Bust of George Washington
Thomas Jefferson
Abraham Lincoln
John Fitzgerald Kennedy
This was a four design hand crank machine.
---
Source: Wikipedia.org ↩

Source: Presidentspark.org ↩

Source: PennyCollector.com ↩