Description

This circulated coin is uncleaned, shows wear and tear and is pressed on a copper-plated zinc penny.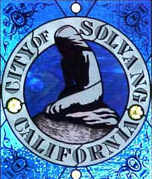 Solvang1 (Danish for 'sunny field') is in the Santa Ynez Valley of California and no passport will be needed to visit the little Danish replica village.
Founded in 1911 by a small group of Danish teachers, Solvang2 now is a diverse, modern city, with fine restaurants, lovely shops and outstanding activities to enchant young and old alike.There are Danish festivals, quiet tree lined streets, horse drawn wagons, Hans Christian Andersen Park, windmills, Danish pastries and dozens of quaint shops to explore. Solvang was incorporated as a city on May 1, 1985 and now has a population of approximately 5,283.
The City of Solvang celebrated its' Centennial Year in 2011. Now in it's second century it continues to thrive as a destination.
There are always many exciting events taking place throughout the year.
Viking ships3 were vessels used during the Viking Age in Northern Europe. Scandinavian tradition of shipbuilding during the Viking Age was characterized by slender and flexible boats, with symmetrical ends with true keel. They were clinker built, which is the overlapping of planks riveted together. They might have had a dragon's head or other circular object protruding from the bow and stern, for design, although this is only inferred from historical sources.
---
Source: SolvangCA.com ↩

Source: CityOfSolvang.com ↩

Source: Wikipedia.org ↩