Description

This circulated coin is uncleaned, shows wear and tear and is pressed on a copper-plated zinc penny.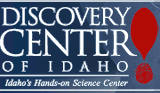 Located1 In Julia Davis Park between 3rd Street & Broadway.
The Discovery Center of Idaho's2 mission is to inspire lifelong interest and learning in science, technology, engineering and math.
Vision
DCI is an interactive science center providing exhibits and educational programs that offer authentic, sensory experiences making the sciences, math and technology tangible.
DCI fosters lifelong learning and enhances scientific literacy in a collaborative environment for people of all ages and from all walks of life.
DCI celebrates the pure joy of learning, helping to develop an educated workforce and an informed electorate in stewardship of our planet.
DCI is built on cooperative partnerships with education, industry and research organizations, public and private.
DCI will showcase its philosophy and objectives and reflect the region's resources through its programs, exhibits and architecture.
Designs:
Has the word "Boise" under a big tree
I Love You penny
Large Discovery Center logo
The Discovery Center logo
Machine is near front doors, next to the ticket desk.
Admission isn't required to use the machine.
---
Source: PennyCollector.com ↩

Source: DCIdaho.org ↩