Description

This circulated coin has been cleaned, shows wear and tear and is pressed on a copper-plated zinc penny.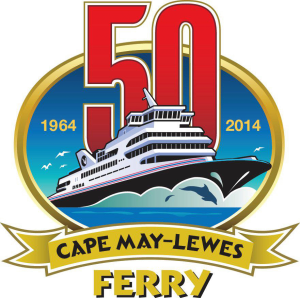 The Cape May – Lewes Ferry1 is a ferry system that traverses a 17-mile crossing of the Delaware Bay to connect Cape May, New Jersey with Lewes, Delaware. The ferry doubles as a section of U.S. Route 9. It is the last crossing of the Delaware River-Delaware Bay waterway before it dumps into the Atlantic Ocean.
This machine was located on board the M.V. Twin Capes downstairs by the bathrooms near the gift shop.
Whether you're crossing the Delaware Bay for a fun day trip or as part of a long-distance trip, on the Cape May-Lewes Ferry,2 your journey is sure to be a memorable one. Enjoy historic lighthouses, picturesque harbors, oceangoing vessels, unique seabirds and, just maybe, your very own dolphin escort!
The 17-mile, 85-minute cruise between New Jersey and Delaware can cut miles off a trip along the Atlantic Coast, connecting points like Wildwood, Stone Harbor, Avalon, Ocean City and the rest of the Jersey Shore with Rehoboth Beach, Dewey Beach, Sussex Shores, Bethany Beach, Fenwick Island, Ocean City, MD, and destinations throughout Virginia.
More than 11 million vehicles and 34 million passengers have crossed the 17-mile mouth of Delaware Bay via vessels of the Cape May-Lewes Ferry during its interesting 50-year history of operations that began July 1, 1964.

Delaware3
is a U.S. state located on the Atlantic Coast in the Mid-Atlantic region of the United States. It is bordered to the south and west by Maryland, to the northeast by New Jersey, and to the north by Pennsylvania. The state takes its name from Thomas West, 3rd Baron De La Warr, an English nobleman and Virginia's first colonial governor, after whom what is now called Cape Henlopen was originally named.
Delaware is located in the northeastern portion of the Delmarva Peninsula and is the second smallest, the sixth least populous, but the sixth most densely populated of the 50 United States. Delaware is divided into three counties. Delaware has the fewest number of counties of any state. From north to south, the three counties are New Castle, Kent, and Sussex. While the southern two counties have historically been predominantly agricultural, New Castle County has been more industrialized.
Before its coastline was explored by Europeans in the 16th century, Delaware was inhabited by several groups of American Indians, including the Lenape in the north and Nanticoke in the south. It was initially colonized by Dutch traders at Zwaanendael, located near the present town of Lewes, in 1631. Delaware was one of the 13 colonies participating in the American Revolution and on December 7, 1787, became the first state to ratify the Constitution of the United States, thereby becoming known as The First State.
---
Source: PennyCollector.com ↩

Source: Wikipedia.org ↩