Description
This circulated coin has been cleaned, shows wear and tear and is pressed on a copper penny.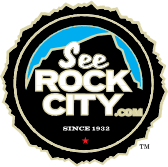 Located atop Lookout Mountain, just 6 miles from downtown Chattanooga, Rock City is a true marvel of nature featuring massive ancient rock formations, gardens with over 400 native plant species, and breathtaking "See 7 States" panoramic views.
Rock City1 officially opened as a public attraction on May 21, 1932. It got off to a slow start, because advertising in those days was difficult; especially since the mountain-top attraction was not located in a place that people would just happen to be passing by and take notice. It was at this point a idea of Rock City's founder Garnet Carter was born. He enlisted the help of a young sign painter named Clark Byers, who was hired to travel the nation's highways and offer to paint farmer's barns in exchange for letting them paint three simple words: See Rock City. The distinctive black-and-white signs appeared as far north as Michigan and as far west as Texas. The advertising soon began to produce the desired effect and, by the close of the 1930's, more travelers than ever had seen Rock City Gardens.
One machine2 is outside the Woodland Wonders gift shop as you enter on the left and the other one is outside the Cliff Terrace gift shop at the top of the trail.
---
Source: SeeRockCity.biz ↩

Source: PennyCollector.com ↩