Description
… Live the Adventure… Press on!


Every year over 30 million pennies are pressed in over 3000 penny press machines in the United States. We press the penny to remember the great time we are having or the exciting new place we are seeing. After the penny is pressed, it ends up in the bottom of a purse or toy box. Now there is a way to keep that great feeling going. Pennybandz hold on to that memory in a wristband or pendant necklace so you can hold on to your magical adventures forever.

Pennybandz® wristbands come in Youth/Adult Small, Adult, and Adult Large sizes. The Pennybandz® pendant is on an adjustable slip knot rope necklace so, one size fits all. Simply insert your pressed penny into the pliable, 100% surgical grade silicone (NOT LATEX) wristband or pendant; and it will hold it securely in place for you to…Live the Adventure and Press On! Each product is packaged in a cool Press + Collect + Trade Pennybandz® card. Patent No. D685,668 S & US D688,968 S. This product is not a toy or intended for children under the age of 6.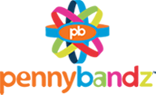 Pennybandz®1 are available as bracelets or necklaces in several eye popping colors (Black Wolf, Lava Orange, Pink Flamingo, Surfer Blue, Mac & Cheese and Ocean Turquoise).
If you are part of the social network monster, Pennybandz® would LOVE for you to follow them on twitter or to like them on facebook. Follow Pennybandz® on Twitter and/or Facebook.
Live the Adventure…Press On! or Rock On!

---
Source: BuyBandz.com ↩