Check it out:
ScottishPennies.com – Andy & Mirryn's collection of Scottish elongated Pennies.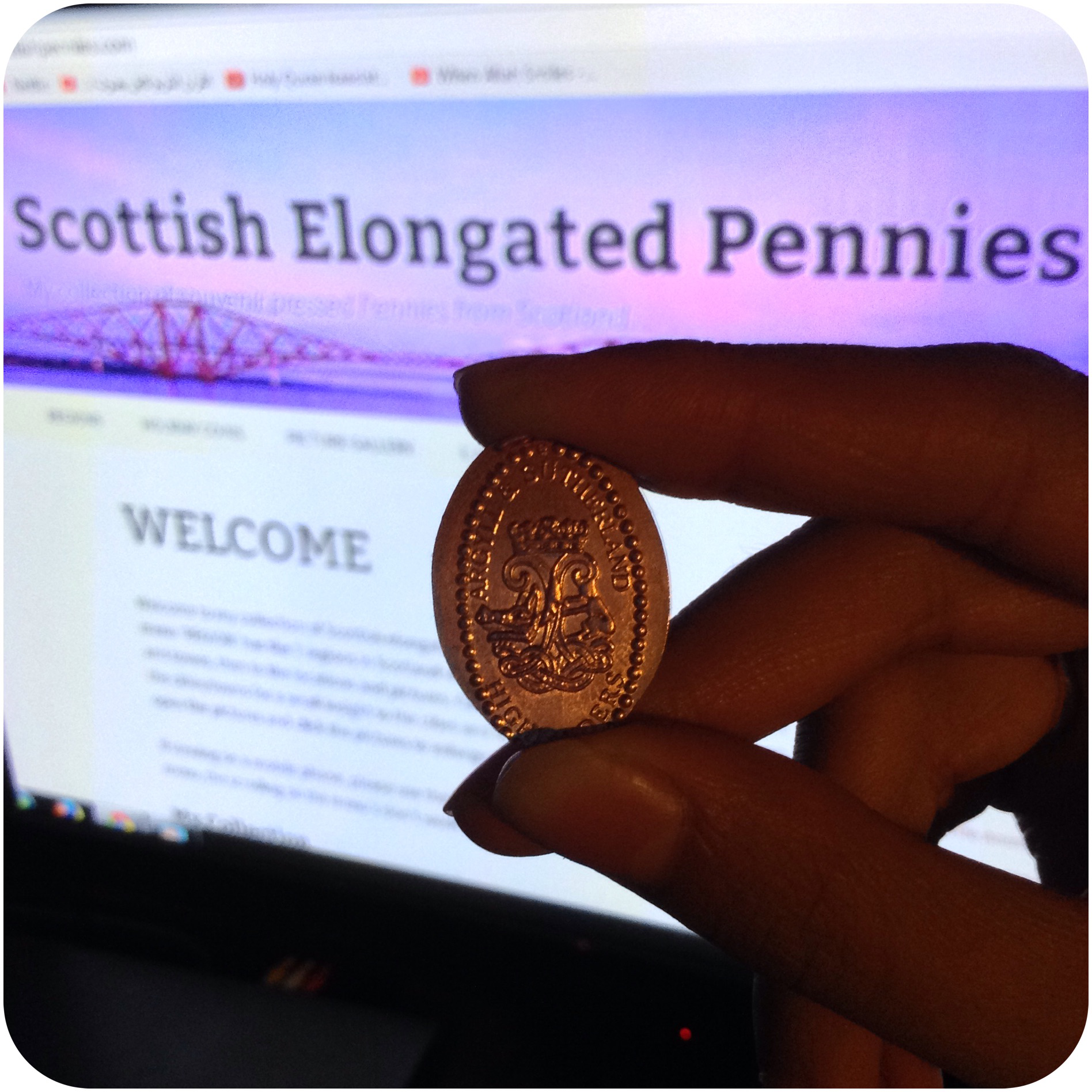 About the coin:

Stirling Castle1 is one of the largest and most important castles, both historically and architecturally, in Scotland. The castle sits atop Castle Hill, an intrusive crag, which forms part of the Stirling Sill geological formation. It is surrounded on three sides by steep cliffs, giving it a strong defensive position. Its strategic location, guarding what was, until the 1890s, the farthest downstream crossing of the River Forth, has made it an important fortification from the earliest times. Most of the principal buildings of the castle date from the fifteenth and sixteenth centuries. A few structures of the fourteenth century remain, while the outer defenses fronting the town date from the early eighteenth century. Several Scottish Kings and Queens have been crowned at Stirling, including Mary, Queen of Scots, in 1542. There have been at least eight sieges of Stirling Castle, including several during the Wars of Scottish Independence, with the last being in 1746, when Bonnie Prince Charlie unsuccessfully tried to take the castle. Stirling Castle is a Scheduled Ancient Monument, and is now a tourist attraction managed by Historic Scotland. The Argyll & Sutherland Highlanders Regimental Museum is in the King's Old Building, originally built in the 1490s as a residence for James IV. On display is a history of distinguished military service reaching back over 200 years. Displays include the regimental silver, uniforms and weapons, bagpipes and drums and other memorabilia.

If you are visiting more historic Scotland sites, purchase a multi-day Explorer Pass to get in to 78 historic sites in the country, as it is much cheaper than buying tickets individually. Members of Historic Scotland get free entry for a year & 20% discount in the shops. Two adults and up to six children membership is £84.55. Individual fees are cheaper.
There is ample parking at the Castle site for a maximum four hours. Cars £4.00 (Historic Scotland Members £2.00). A park and ride service to Broad Street is operated by Stirling Council. This runs from Mondays to Saturday, approximately every 15 minutes. The price is £1.20 for an adult return, £0.60 for a child return.
Hours of operation are: April 1st – September 30th Monday through Sunday, 9.30 am to 6.00 pm (18:00). October 1st – March 31st Monday through Sunday, 9.30 am to 5.00 pm (17:00). Last ticket sold 45 minutes before closing. The Regimental Museum closes 45 minutes before the Castle. Regimental Museum hours are: April 1st – September 30th Monday through Sunday, 10.00 am to 4.45 pm (16:45). October 1st – March 31st Monday through Sunday, 10.00 am to 3.45 pm (15:45). Visitors will be asked to leave the museum by 4:00 pm (16:00).
Admission prices are: Adult: £14.00 (aged 16-59), Child £7.50 (aged 5-15. Children must be accompanied by an adult or concession visitor), Concession: £11.00 (aged 60 and over, unemployed), and a Child under 5 is free.
There is one design available from a Eurolink "Penny Presser" automatic machine. Each cost 50 pence (50p coin only) on an English or Scottish penny that you supply.
The penny machine is located within the regimental museum of the Argyll & Sutherland Highlanders gift shop which is inside the castle. You must pay admission to gain entry into the Castle. No admission is required to access the Argyll & Sutherland Highlanders Regimental Museum once you are inside the Castle.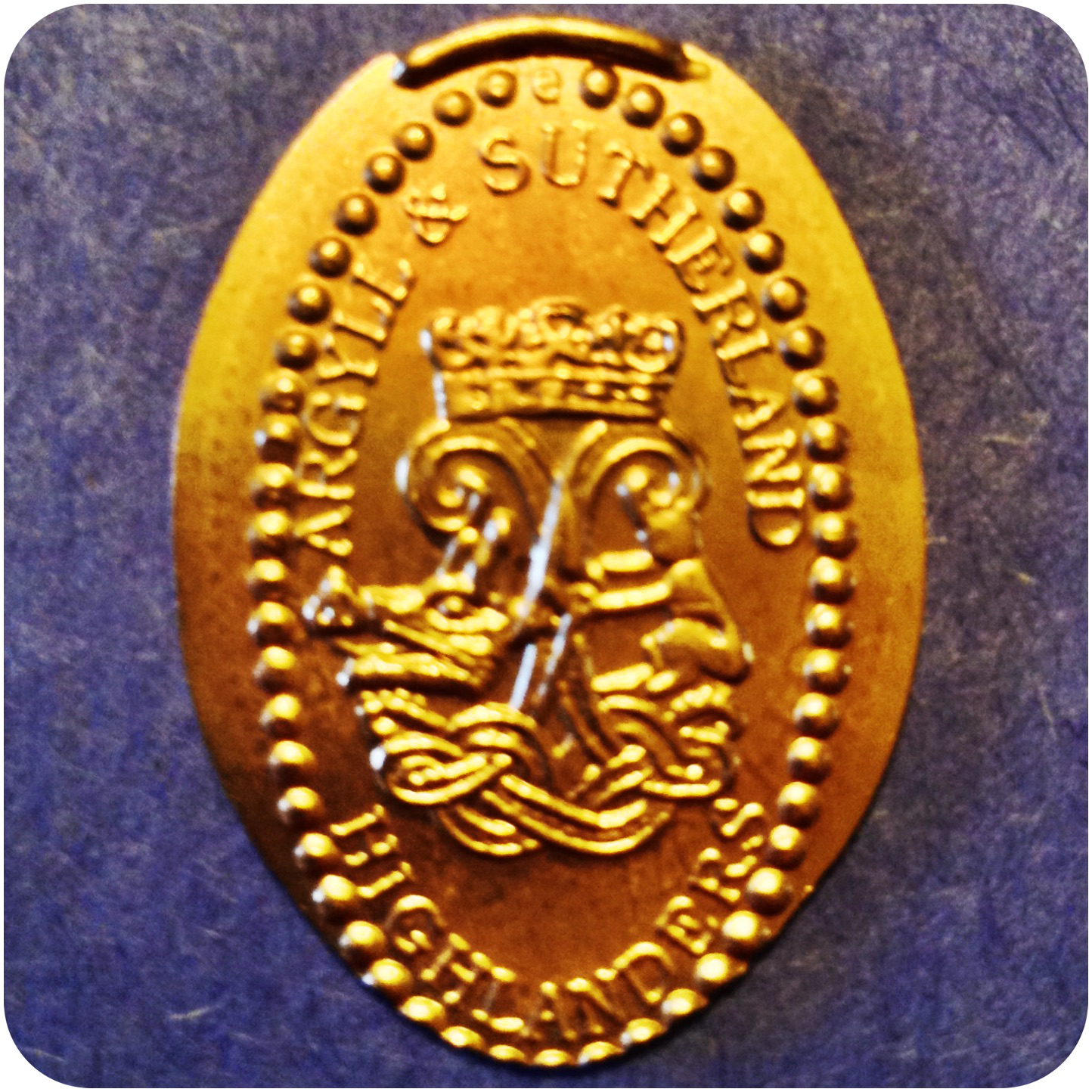 Design has a beaded border:
1. (V) The Argyll & Sutherland Highlanders crest with 'Argyll & Sutherland Highlanders'.


---
Source: PennyCollector.com ↩