The site is appropriate for children and is a mix of education, where did the hobby originate, to encouraging elongated coins as a new hobby.
The website is nearly finished.
PRESS RELEASE: August 1, 2014
The Elongated Coin Museum (ECM) has announced it will come on-line on January 1, 2015. The Elongated Coin Museum is the largest elongated coin museum in the United States. It started with a passion to collect every elongate in the State of Washington which grew – much to Kyle's (the curator) wife's discontent – into over 9,000 elongates.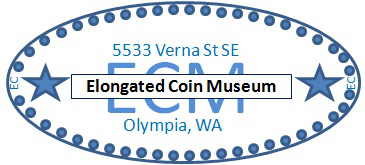 ECM will provide the following to the General Public:
Video History Tour of Elongated Coins (EC), Titled, "Where it all Began."
Exhibit Elongated Coins in the form of collections from locations around Washington State.
Raise awareness of Elongated Coin Collecting to the general public and further the passion of youth hobbyists.
Provide a single website for resources needed by all hobbyists.
TEASER: Click on My Gypsy to see the teaser page.
In the mean time please visit The Elongated Coin Museum's curator Kyle Greer on eBay where he offers a fantastic selection on smashed pennies in his eBay store!
###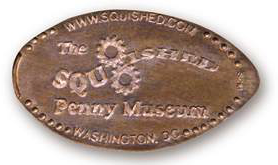 The Washington DC Elongated Coin Museum is CLOSED.
Christine Henry and Pete Morelewicz, the curators had been running the Squished Penny Museum out of their home in Washington, DC for a very long time (1996-2007). They were great hosts who loved entertaining visitors and their web site had awesome info and trivia as well!