Cleaning & Polishing (1)
Actually they aren't really shiny yet because it's really hard to take pictures of shiny coins. The coins pictured have been cleaned (unless otherwise stated) with Brasso which leaves them a bit dull. Once we took the picture we polish them (the pennies I mean) with Autosol and than they are incredibly shiny – you wouldn't believe it. Every coin turns into a little jewel – no kidding!



Autosol Metal Polish. This incomparably superior, quality metal polish is Autosol LLC.'s most popular product. It has won three international gold medals and is recommended by manufacturers, museums and restoration experts around the world. It safely and easily removes oxidation, corrosion, stains, and rust. It produces a brilliant reflective luster and leaves an invisible protective coating to ensure a long-lasting shine.
Strongly recommended by us: "We have yet to discover a product which does a better job in polishing our cherished elongated coins – period!!"
Glossary (3)
Zincers and Coppers – what's the difference?
Notice the grey or silver colored shadows within the coin design of the "zincer" coin?
Zinc pennies are made of zinc but plated with pure copper (and that's the reason zincers are often way shinier than copper pennies which are made of brass – not pure copper). When you elongated (press or smash) such a zinc cent the copper plating breaks and what you see revealed is the real material of the coin – zinc which is bleeding through.
Before 1982, the U.S. minted pennies that were about 95% copper and 5% zinc. Beginning in 1982, the proportion of each metal was reversed because the value of the copper in a cent was becoming more valuable than a penny. When you smash a post-1982 penny, the elongation process will reveal the zinc underneath the copper plating of the coin.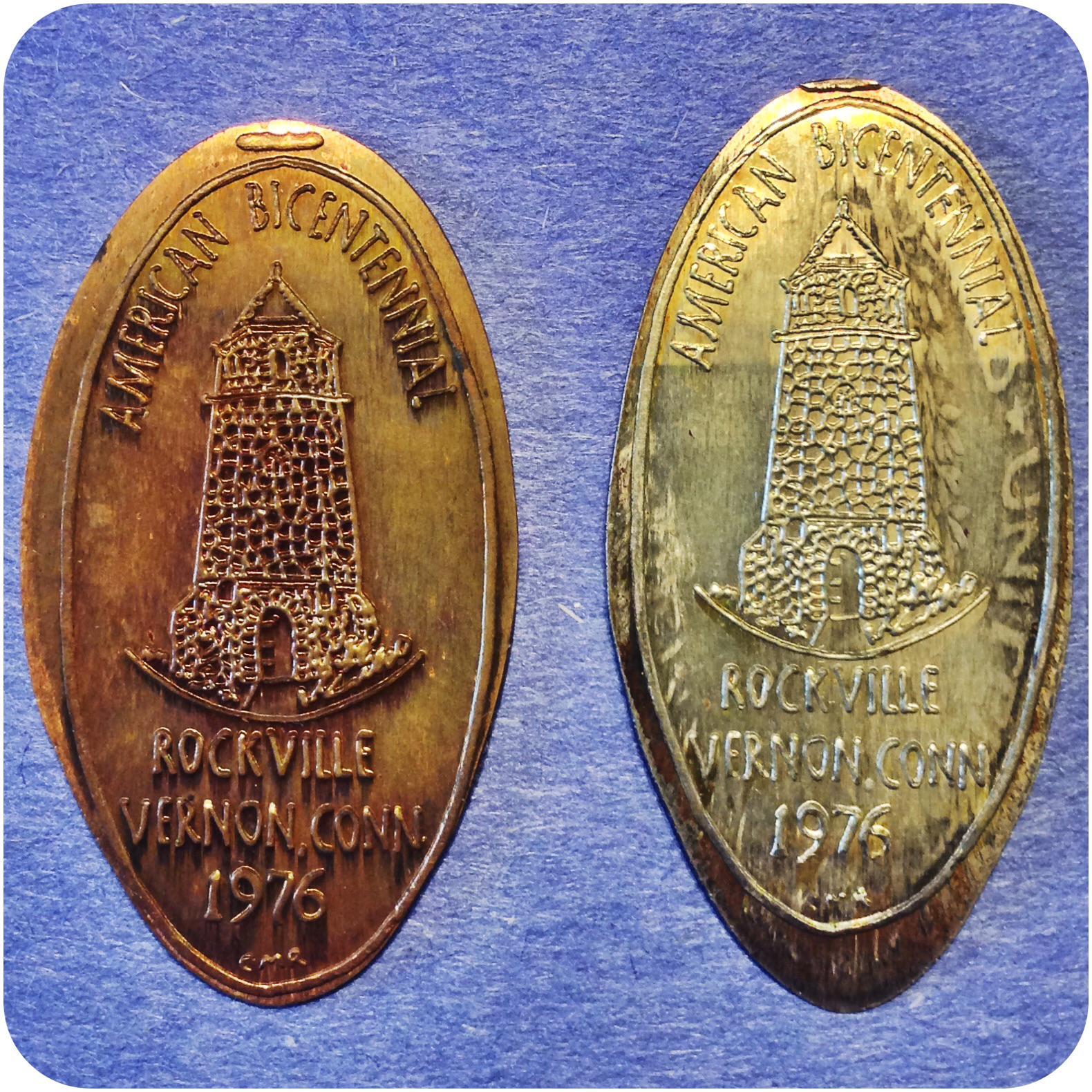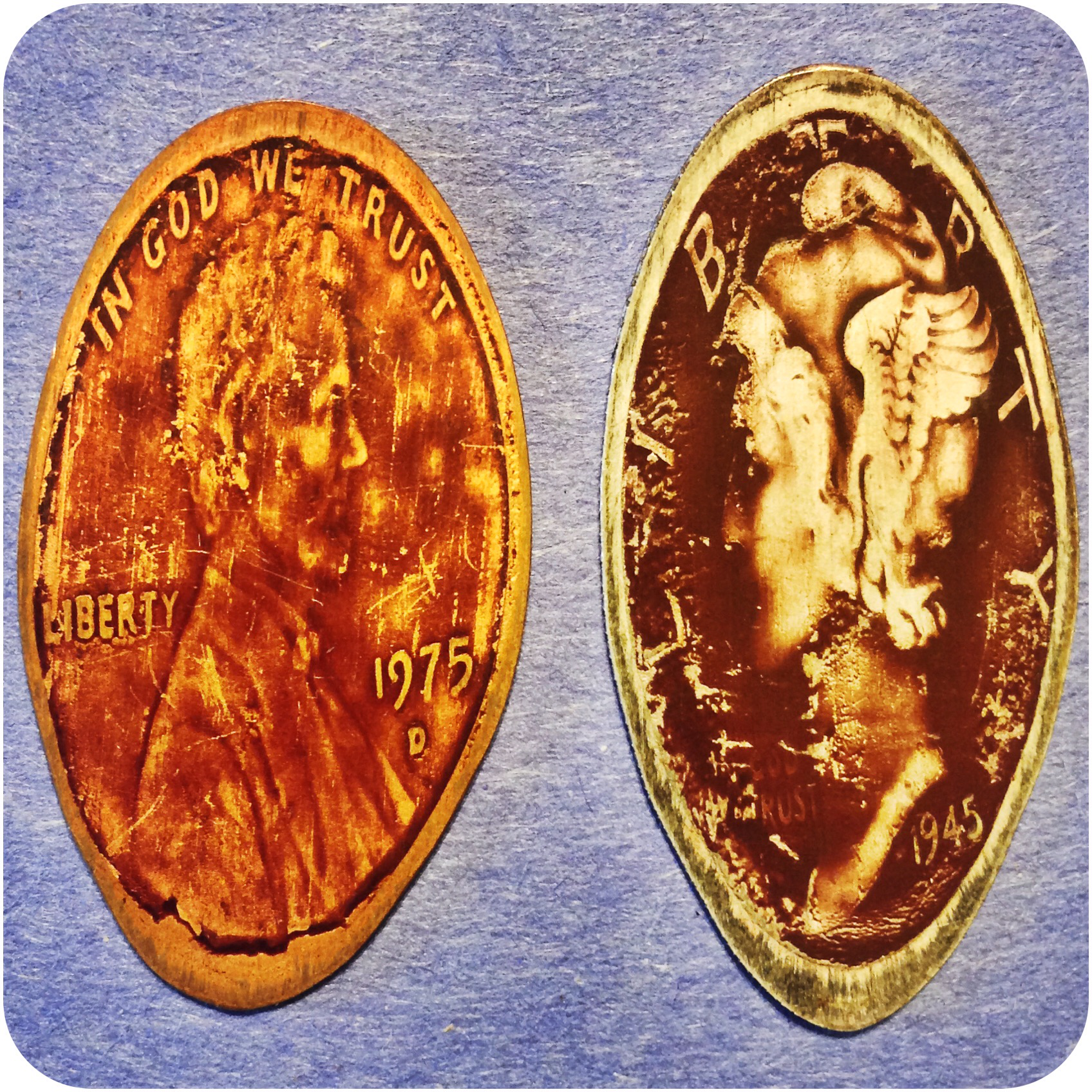 Private rolls sometimes have stained backs to show the dates of the pennies. The roller (Mr. Chester M. Rogers in this specific case) might have used Deft brand spray stain or Jet and Mohawk brand stain. Nowadays it's really hard to buy those stains as they aren't produced anymore (so fare we know). On top of it it's not a really good idea to use a stained coin with a public penny machine because nobody will clean the die afterwards.
Initials on elongated coins may refer to:
Designers
Engravers
Rollers
Manufacturers
Sponsors
Dealers
Numismatic Clubs
Now some maybe are rollers but not designers. Some are designers but not rollers. Some design and roll. Some may engrave but not deal with the artwork. And some do it all. Over time (to the best of our knowledge) we will try to add specific information about each initials as we gather the information along our journey through the realms of elongated coins.
So here we go with the current version of our key (incomplete of course) to that specific elongated coin riddle:

Initials
Name/Company
Image
462
Don Berry
ABC
Anastasia, Bob, and Charlotte Hoff
AC
Adam J. Cool
AG
Alice Goodman
AH
AM
AR
Angelo A. Rosato
AV
Adele & Norman Vogel (Rollers, Engravers - TEC #1966 & 1997)
AZ
Anita Zell
Las Vegas
BCS
Bruce C. Sumner
BE
BG
Bronislaus (Brownie) A. Gill
BJ
Bill Jackson
BJ
Bruce Jones
Memphis, Tennessee
BOB
Bob Frazier
TEC#4915
BR
Banyas Barnesyarde - Brad Ream
BS
Bert Samsa
BX
James Brown and Myron Xenos
C
Often used to denote a copy of an earlier elongated coin.
C
Copper Charms
C
Carlos Curry of Louisville, Kentucky
Roller
©
Copyrighted
C in box, triangle on top
Cliff Roth
C-7
Cee Ceven (Betty Kirby and Rudy Skarita)
CASH
Carol & Steve Hursh
CAW
CBW
C. B. Weatherly
CC
Copper Charms
CEW
Cecil E. Walls
CH
Bud Hicks
CH
Charles Ray Harden
11408 E Parr Avenue, Brazil, IN 47834
1-812-877-1157
Roller

CK
Carol Kilcoyne
CL
Charles Lorati
CM
C. Gus Meccarello
CM
Copper Memories
CMI
Copper Memories
CMJ
CMH
CMR
Chester M. Rogers
CO-7
James Bond
CS
CW
Carl Webster
CW
Claude Waite
CZC
Cindy Calhoun
DA###
Over 250 designs showing DA and then the die issue number
DAW

Don A. Wilkinson
TEC#1079
Designer & Roller
DC
Donald Cade
DC
Danny B. Crabb
DD
Dottie Dow
DD
Don Duncan
DE
DES
Donald E. Sabo
Collector, Engraver, and Roller
Avondale, Arizona
TEC # 341 LM
DESCO
David E. Stoicheff
DJ
D. Jakebovits
DJM
Dave Macdiarmid
DM
DMH
DP
Dwayne Padon
DR
Don Roth
DRP
Dwayne Padon
DS
Donald E. Sabo
Collector, Engraver, and Roller
Avondale, Arizona
DS
David Spellman
DT
Dan Thompson
DT
Dave True
DW
Don Wendt
DWJ
David W. Jordan
e
Eurolink
EA# (EA1, EA2, EA3 etc.)
Elmer Anderson
Roller
ECHO
W. W. Miller
ED
Ed McClung
EG
Ewell Gunter
EH
Errick Hermann
ELM
E.L. Murdoch
EPE
Elvis Presley Enterprises, Inc.
ET# (ET1, ET2, ET3 etc.)
Eurotoken
Installer
EW
Ed Weaton
FB
Frank E. Brazzell from Indiana. Master engraver and builder of rolling machines. Mentor of Jim Dundon. Passed away in 1996.
FGS
FL
FS
Frank Spandone
FSC
G
Eric H. Goodwin
GFB
GA
GAE
GK
George E. Kesterson
GM
Gus Meccarello
Engraver
GPB
Gary & Phyllis Bible
GW
George Wanzug
GWE
Gerald William Elliott Sr.
Roller
HA
HCS
Harold C. Schmal
HDA
H. D. Alien
HE
House of Elongateds
(Lee Martin/Warren Bunge)
HG
Horace Grant
HHT
Harry H.Taylor
HOE
House of Elongateds
(Lee Martin/Warren Bunge)
HLB
HM
Holden Manufacturing, Inc.
Manufacturer
2938 Stonewall Place
Sanford, FL 32773
Phone: 407-321-1653
Toll Free: 800-643-2566
Fax: 407-321-5311
Holden Manufacturing, Inc. on Archive.org
Holden Manufacturing, Inc. on Facebook.com
HM
Houston Marshall
Private Roller
HWB
Henry W. Blaha
Roller
IG
JB
Jamie Bennett
JB
James Hanna Brown
JD
Jim Dundon (Paradise Engraving)
Engraver
JES
JF
Joe Franklin
JGS
John G. Spadone
JH
Joseph Hotter
JJ
Jim Dundon (Paradise Engraving)
Engraver
JJR
RALPH JONES (may appear
reversed)
JK
James Kilcoyne
Coyne Designs
(TEC # 1887)
Designer, Engraver, Roller
(Acid Etching, Rotary Engraving, Hand Engraving)
5274 Linton Road
Cadiz, Kentucky 42211
kilcoynejames@hotmail.com
JK
Jess Kirby
JLB
JM
Jack Meccarello (Roller)
JN
John & Nancy Wooten
JR
Jerry Rathburn
JR
Jack Rosenblath
JR
RALPH JONES (may appear
reversed)
JRN
Jason R. Nelson
Roller
JS
James Singleton
JS
John G. Spadone
JW
Jack Wilcox
K
C. C. Kemp
KH
Banyas Barnesyarde - Kay Harpold
KMCS
Karen San Gregory
KWG
Kyle Greer
Sponsor
L (circled)
R. W. Luchtman (L.P. Engravers)
L
Lord's Prayer Engravers (Charles Lorati)
LB
Lenard Babin
LB
Lee Bowser
LCS
L. C. Summer
LCS
Lido Coin Shop
LE
Lodestar Entertainment
LEW
Lloyd E. Wagaman
LEW
Lisa Whitcomb
Roller
LEM
Lee Martin
LH
Lurene Haines
(2001 TEC membership nickel)
LHT
Len H. Trump
LOU
Lou Brock
LS
LS
LT
Len H. Trump
LW
Lloyd Wagaman
MC
Maecri Italy (Italian company)

XII refers to the engraver's sequence. The silver coin is from Spain. The installer is 'ET' (see above)
MFT
MH
Millard Hajek
MLBP
Major League Baseball Players
MK
Business Cents LLC & Studio Twelve28
Josh and Michelle Kilcoyne
PO Box 134
Noblesville, IN 46061
1-317-363-1587
Website: Business Cents LLC & Studio Twelve28
Email: Michelle Kilcoyne
MLH
Mark Hill
MM
M & M Elongates
Mary Eggleston and A. Elizabeth "Manchie" Batterton
Hickman Coin Shop
5815 Longview Road
Kansas City, Missouri 64134
MM
Mary Eggleston
M & M Elongates (Mary Eggleston and A. Elizabeth "Manchie" Batterton)
Hickman Coin Shop
5815 Longview Road
Kansas City, Missouri 64134
MM
Michael Mochizuki
MOM
Marlyse Hansemann
MP
Michael Pender
Sponsor or Dealer - Non Roller Producer
MT
Michael Toennessen
Designer
MT
Marie F. Trinny
Sponsor or Dealer - Non Roller Producer
MTC
MW
Mark Wright
N&RM
Norman & Ruth MacQuithy (Roller)
NINA
Nina MacDonald
NRM
Norm & Ruth MacQuithy (Roller)
NS
Nick Salimbene
OLY
Bob Olson, Illinois
OP
Oded Paz
Designer & Roller
PB
Paul Brenner
PC
Paul Case
PC
Penny Collector
PE
Paradise Engraving (Jim Dundon)
PJ
P. Janic
PLB
Pearl L. Buoker
PPC
PM
PennyMachines.com
The Penny Men, A Division of CTM Group, Inc.
13 Red Roof Lane, Unit 1A
Salem, NH 03079
1-866-766-7166
PP
PS
PW
PWC
Paul Conner
Paul Conner Studios, LLC
R
Robert Stafford
RB
Rodney W. Baker
RCK
REB
Robert E. Buoker
RG-#
Robert E. Gilger
Roller
TEC # 3810
RH
Renée Asha Petronilla Hansemann
Designer
TEC # 3435
RHB
RHJ
Robert H. Jacobs
RJ
Ralph Jones
Roller
RJJ
Ralph Jones
Roller
RK
Ron Kanke
Roller
ЯM
Rob Morris
RL
Ray Loutzenhiser
RR
Rocky Rockholt (The Penny-Press Machine Co., LLC)
Manufacturer & Installer
RR
Ronald Readon
RS
Robert & Shirley Stafford
RS
Russ Sears
RTL
Ray T. Leveille
RW
Ray Wagner, Jr.
RWC
RWD
Ray W. Dillard
RWJ
Ralph W. Jobe
RWL
Robert W. Luchtman
SAK
Sally & Al Kirka
SB
Steve Beecher
SDPM
San Diego Penny Machine
SE-# (SE-1, SE-2, SE-3 etc.)
Scott Eddy
TEC#4661
Fresno Elongated Penny's
SEC
Superior Elongated Coins
Dennis Paul Berry
SG
Shel Green
SoC
Stamps on Coins
(Jess Kirby)
SP
Smashing Pennies (Katrina and Zac Gowen)
SPI
SPM
Smashed Penny Museum
SPM
SSC
Sea Shell City, Inc.
708 Coastal Highway
Fenwick Island, DE 19944
SSF
Suzie Sims-Fletcher
TAC
TAK
TDT
Tyler Tyson
TG
Tom Gerhardt
TK
Boeing Employees Coin Club (BECC)
The BECC 53rd annual coin show in Kent, Washington was held January 21-22, 2017. Wooden nickels and elongated cents with the 747-8 Intercontinental design were available at the coin show until supplies were exhausted. (One free wooden nickel and one free elongated cent per show attendee. Additional cents could be purchased.)
TMC
TPP
Carl Webster
The Penny Pincher
Robinson, Illinois
TR
Tom Russo
TW
Tom Wiebe
T#Y ( "T1Y," T2Y," "T3Y"…)
Bert Creighton (Roller)
TEC #2095

VB
Vicky Bowser
VCS
VF
Vance Fowler
WCM
William C. Massey
Luck "E" Penny
P.O.Box 1511
Beltsville, MD 20704-1511
WDA
Wayne D. Ashford
WDW
WG
William Gardner
WJH
William T. Helmerick
WLP
WLS
WM
William C. Massey
Luck "E" Penny
P.O.Box 1511
Beltsville, MD 20704-1511
WR
William Rogers
WSA
Whitney, Spero & Alien
∞
CO88
eBay (1)
Dear i***t

( 222

),
You asked:
Quote

Friday, February 28, 2014 10:00 AM
Dear domaindomino,
Would you be willing to take less? I bought one just like this for $1.47 a
few days ago but I need one more.
–i***t

( 222

)
Unquote
As an exception we are (I will use your transaction with us as a learning experience). We will adjust the price for you on this one coin but act quickly because it ends in less than a day.
I don't see how sellers pricing their coins at $1.47 even can recover their own costs – I believe they are actually loosing money with such a business model.
See below why I believe so (I used an item price of $2.25 for my example).
$2.25 Starting Bid
$1.75 Shipping
—–
$4.00 Total Cost of coin on eBay
$0.23 Final Value fee (eBay)
$0.18 Final Value Fee on Shipping (eBay)
$0.42 Fee amount (PayPal)
$0.91 Postage Stamps (USPS for 2oz rigid envelope)
—–
$1.74 Fees for $2.25 coin
Not factured into costs yet:
– original cost of item (elongated coin)
– envelope
– tape
– Brasso (Metal Polish liquid used to clean coins)
– Autosol (metal polish paste used to polish coins)
– Q-Tips Cotton Swabs, paper towels, soft cloth, cloves etc. to clean/polish the coins
– time for cleaning, research, listing and shipping
– eBay listings fee of $0.35 if we list more than 50 coins a month and eBay doesn't run a special like they did in February 2014)
Enjoy your coin and this amazing hobby!! 🙂
Marlyse