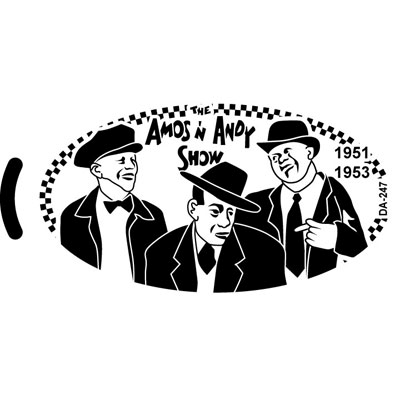 Adams#247
TITEL: Amos 'N' Andy Show ADA-250
ROLLER: Adams, Don
ENGRAVER: Kilcoyne, James
ISSUE: Stock Rolled 2014
DETAILS: DA-247
Art Work: Paul Conner
CENTS: 300
NICKELS: 10 (Sold Out)
DIMES: 5 (Sold Out)
QUARTERS: 0
HALVES: 0
DOLLARS: 0
SETS: 0
The Amos 'N' Andy TV show was a 30 minute comedy series on CBS about the leader of the Mystic Knights of a Sea Lodge nicknamed "Kingfish" who was constantly trying to talk his lodge brothers into getting involved in get rich quick schemes that always went sour. Andy Brown was one of Kingfish's most gullible suckers and came back for one failed scheme after another. The stories were told from the point of view of philosopher and cap driver, Amos Jones.

Published on Feb 19, 2014


Amos 'n' Andy Season 1 Full Episode 28 – Rare Coin (this was also the pilot episode)
uploaded by
Rebecca Clarke
.
The Kingfish swindles Andy out of a rare coin and Andy swindles it right back by use of a clever trick in a phone booth coin slot.