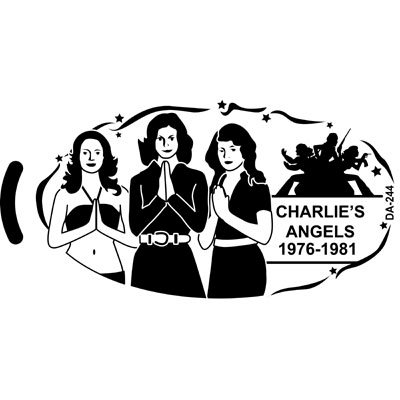 Adams#244
TITEL: Charlie's Angels ADA-247
ROLLER: Adams, Don
ENGRAVER: Kilcoyne, James
ISSUE: Stock Rolled 2014
DETAILS: DA-244
Art Work: Paul Conner
CENTS: 300
NICKELS: 10 (Sold Out)
DIMES: 5 (Sold Out)
QUARTERS: 0
HALVES: 0
DOLLARS: 0
SETS: 0
The Charlie's Angels TV show was a 60 minute action series on ABC about three young women who worked for Charlie Townsend, owner of the Townsend Detective Agency. Charlie would give the ladies their assignments by telephone but was never seen by the girls or by the viewers. Charlie's Angels had backgrounds in law enforcement but in lowly jobs such as meter maids, answering the phone, or as clerks. Once they became employed by Charlie, that all changed! They became tough, powerful women who could handle any evildoer whether they were woman or the biggest, badest men. They were also beautiful women though so they fought criminals dressed in revealing outfits and bikinis. Female viewers wanted to be them and male viewers wanted to possess them!

Uploaded on Oct 14, 2010


Farrah Fawcett's skateboard chase | Charlie's Angels at Griffith Park
uploaded by
Charlie's Angels.org
.
Farrah Fawcett's famous skateboard chase through Griffith Park in the first season episode, "Consenting Adults".