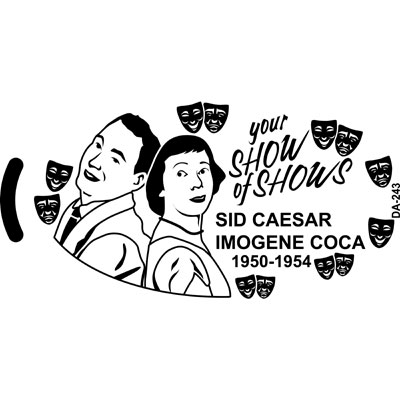 Adams#243
TITEL: Your Show of Shows ADA-246
ROLLER: Adams, Don
ENGRAVER: Kilcoyne, James
ISSUE: Stock Rolled 2011
DETAILS: DA-243
Art Work: Paul Conner
CENTS: 300
NICKELS: 10 (Sold Out)
DIMES: 10 (Sold Out)
QUARTERS: 0
HALVES: 0
DOLLARS: 0
SETS: 0
Your Show of Shows was a live sketch comedy series from the golden age of television! The huge cast of regular musical and dance performers along with top-name guest stars provided viewers with consistently enjoyable entertainment every Saturday night!

Published on Feb 13, 2014


In Tribute To SID CAESAR – Chinese Food (YOUR SHOW OF SHOWS)

uploaded by
Vintage Comedy Vault
.
Sid Caesar comes home with a unwelcome surprise for wife Imogene Coca, who has prepared a very special meal for him. With Carl Reiner. (NOTE: no date available)