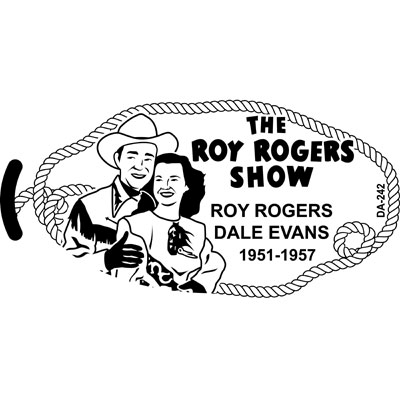 Adams#242
TITEL: The Roy Rogers Show ADA-245
ROLLER: Adams, Don
ENGRAVER: Kilcoyne, James
ISSUE: Stock Rolled 2011
DETAILS: DA-242
Art Work: Paul Conner
CENTS: 300
NICKELS: 10 (Sold Out)
DIMES: 10 (Sold Out)
QUARTERS: 0
HALVES: 0
DOLLARS: 0
SETS: 0
The Roy Rogers Show was a 30 minute western action series on NBC about a 1950's cowboy, his wife, their friends and their horses. They lived their lives on the Double R Ranch when they weren't out fighting bad guys. Roy Rogers' horse "Trigger" and dog "Bullet" would often rescue one of the actors from peril. Trigger was known as the "Smartest Horse In The Movies".

Published on Mar 21, 2009


The Roy Rogers Show

uploaded by
ampopfilms
.
The King of the Cowboys fights crime in the west with his wife Dale Evans and Trigger his trusty horse.