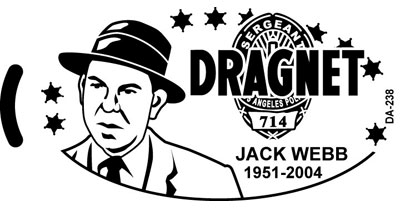 Adams#238
TITEL: The Dragnet Show ADA-241
ROLLER: Adams, Don
ENGRAVER: Kilcoyne, James
ISSUE: Stock Rolled 2011
DETAILS: DA-238
Art Work: Paul Conner
CENTS: 300
NICKELS: 10 (Sold Out)
DIMES: 10 (Sold Out)
QUARTERS: 0
HALVES: 0
DOLLARS: 0
SETS: 0
Dragnet, syndicated as Badge 714, is a radio and television crime drama about the cases of a dedicated Los Angeles police detective, Sergeant Joe Friday, and his partners. The show takes its name from an actual police term, a "dragnet", meaning a system of coordinated measures for apprehending criminals or suspects.
Dragnet was perhaps the most famous and influential police procedural drama in media history. The series gave millions of audience members a feel for the boredom and drudgery, as well as the danger and heroism, of real-life police work. Dragnet earned praise for improving the public opinion of police officers.
Actor and producer Jack Webb's aims in Dragnet were for realism and unpretentious acting. He achieved both goals, and Dragnet remains a key influence on subsequent police dramas in many media.

Published on Apr 6, 2013


Dragnet: The Human Bomb (1951) – Full Episode
uploaded by
All Classic Video
.
Season 1, Episode 1 of Dragnet from 1951. Joe Friday and his partners methodically investigate crimes in Los Angeles. Joe Friday (Jack Webb); Ben Romero (Barton Yarborough), and Chief of Detectives Thad Brown (Raymond Burr) try to stop a man from blowing up city hall.