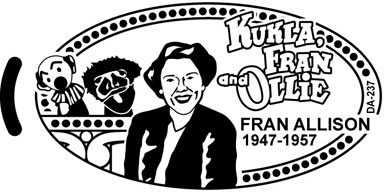 Adams#237
TITEL: Kukla, Fran & Ollie Show ADA-240
ROLLER: Adams, Don
ENGRAVER: Kilcoyne, James
ISSUE: Stock Rolled 2011
DETAILS: DA-237
Art Work: Paul Conner


CENTS: 300
NICKELS: 10 (Sold Out)
DIMES: 10 (Sold Out)
QUARTERS: 0
HALVES: 0
DOLLARS: 0
SETS: 0
Kukla, Fran and Ollie was an early television show using puppets, originally created for children but soon watched by more adults than children. Like many other early shows, it did not have a script and was entirely ad-libbed. It was first aired from 1947 to 1957.
Fran was Fran Allison, a radio comedienne and singer who was usually the only human to appear on screen, filling the role of big sister and cheery voice of reason as the puppets engaged each other concerning their foibles. The design style of puppets was in the style of Neapolitan puppet shows, or Punch and Judy without the slapstick, but their personalities were less caricatured. The puppet cast included Kukla, the earnest leader of the troupe; Ollie, or Oliver J. Dragon, a roguish one-toothed dragon (who would slam his flat chin on the stage in frustration or roll on his back to be endearing); Madame Oglepuss, a retired opera diva; Beulah Witch, a liberated witch; Fletcher Rabbit, the troupe's mailman and resident fussbudget; Cecil Bill, the troupe's union stagehand who spoke in "tooie talk"; Colonel Crackie, a Southern gentleman; Dolores Dragon, Ollie's younger cousin, and a number of others.
Uploaded on Oct 30, 2010
Lemonade – Kukla, Fran and Ollie
uploaded by
Kukla, Fran and Ollie
.
The Kuklapolitan Website
Ollie plays ad executive to help Kukla move more product. The Burr Tillstrom Copyright Trust announces the first release of the earliest episodes of the Peabody and Emmy-award-winning Kukla, Fran and Ollie, one of the most highly regarded shows of early television, and the first series produced in Chicago to receive national attention. The two-DVD set of 20 digitally restored episodes, which have never been commercially available in any format, will be released Nov. 20, 2010, through Amazon.com and the Chicago History Museum.