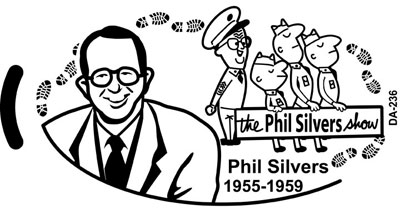 Adams#236
TITEL: The Phil Silvers Show ADA-239
ROLLER: Adams, Don
ENGRAVER: Kilcoyne, James
ISSUE: Stock Rolled 2011
DETAILS: DA-236
Art Work: Paul Conner

CENTS: 300
NICKELS: 10 (Sold Out)
DIMES: 10 (Sold Out)
QUARTERS: 0
HALVES: 0
DOLLARS: 0
SETS: 0
The Phil Silvers Show, originally titled You'll Never Get Rich, was a television series which ran on CBS from 1955 to 1959 for a total of 143 episodes (including a 1959 special). The series starred Phil Silvers as Master Sergeant Ernest G. Bilko of the United States Army, service number 15042699.
The series was created and largely written by Nat Hiken, and won three consecutive Emmy Awards for Best Comedy Series. The show is sometimes titled Sergeant Bilko or simply Bilko in reruns, and is very often referred to by these names, both on-screen and by viewers. The show's success transformed Silvers from a journeyman comedian into a star, and writer-producer Hiken from a highly regarded behind-the-scenes comedy writer into a publicly recognized creator.
Published on Apr 13, 2014
Phil Silvers in Bilko On Parade (1985)
uploaded by
The Phil Silvers Channel
.
Kenneth Williams narrates this Bilko special marking the 30th anniversary of the show. Produced by Nick Freand Jones.