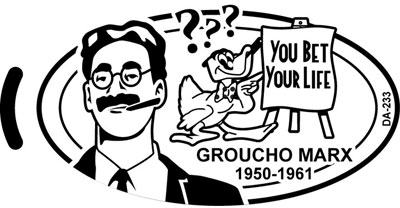 Adams#233
TITEL: You Bet Your Life Show ADA-236
ROLLER: Adams, Don
ENGRAVER: Kilcoyne, James
ISSUE: Stock Rolled 2010
DETAILS: DA-233
Art Work: Paul Conner

CENTS: 300
NICKELS: 10 (Sold Out)
DIMES: 10 (Sold Out)
QUARTERS: 0
HALVES: 0
DOLLARS: 0
SETS: 0
You Bet Your Life is an American quiz show that aired on both radio and television. The most well-known version was hosted by Groucho Marx of the Marx Brothers, with announcer and assistant George Fenneman. The show debuted on ABC Radio in October 1947, then moved to CBS Radio in September 1949 before making the transition to NBC Radio and NBC-TV networks in October 1950. Because of its simple format, it was possible to broadcast the show simultaneously on the radio and on television. In 1960, the show was renamed The Groucho Show and ran a further year. Most episodes are in the public domain.
Published on Jan 14, 2013


You Bet Your Life – Episode #1

uploaded by
AllegroMediaMovies
.
Groucho Marx's quick wit and rapid one-liners — along with his distinctive moustache, eyebrows and ever-present cigar—have made him one of the most famous, iconic comedians of all-time. In 1950, Groucho appeared as himself—sans his trademark moustache— as the emcee and star of You Bet Your Life. The show's premise was simple: Contestants seek to win $1,000 by answering a sequence of four questions. If they said a "secret word" they would win a hundred dollars, delivered by a paper-mache duck lowered from above. The best part of show was the humor Groucho injected into the interviews he did with the contestants. You Bet Your Life ran eleven years, making it one of the longest running shows in the history of television.
Partner rating: No mature content
Show: You Bet Your Life
Season: 1
Episode: 1
Running time: 27:58
Release date: 10/1/50
Actor: Groucho Marx
Category: Classic TV, Comedy, Reality & Game Shows