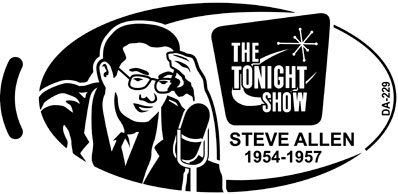 Adams#229
TITEL: The Tonight Show ADA-232
ROLLER: Adams, Don
ENGRAVER: Kilcoyne, James
ISSUE: Stock Rolled 2010
DETAILS: DA-229
Art Work: Paul Conner


CENTS: 300
NICKELS: 10 (Sold Out)
DIMES: 10 (Sold Out)
QUARTERS: 0
HALVES: 0
DOLLARS: 0
SETS: 0
The Tonight Show is an American late-night talk show that has aired on NBC since 1954. It is the longest currently running regularly scheduled entertainment program in the United States, and the third longest-running show on NBC, after "Meet the Press" and "Today".
The Tonight Show has been hosted by Steve Allen (1954–1957), Jack Paar (1957–1962), Johnny Carson (1962–1992), Jay Leno (1992–2009, 2010–present), and Conan O'Brien (2009–2010).
The longest-serving host to date was Carson, who hosted The Tonight Show starring Johnny Carson for 30 seasons, from the fall of 1962 through the spring of 1992. The current host of the show is Jay Leno, who had previously hosted the show from 1992-2009, and began his current tenure amid controversy on March 1, 2010.
Uploaded on Nov 3, 2007
Tonight Show-clip from the first episode
uploaded by
CatThatHasNoName
.
Taken from the documentary series "Television", this is a clip from the first episode of the Tonight show with Steve Allen.