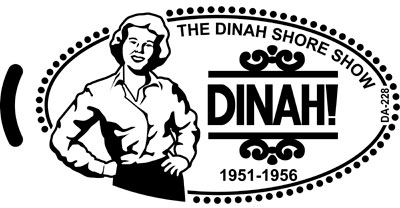 Adams#228
TITEL: The Dinah Shore Show ADA-231
ROLLER: Adams, Don
ENGRAVER: Kilcoyne, James
ISSUE: Stock Rolled 2010
DETAILS: DA-228
Art Work: Paul Conner


CENTS: 300
NICKELS: 10 (Sold Out)
DIMES: 10 (Sold Out)
QUARTERS: 0
HALVES: 0
DOLLARS: 0
SETS: 0
The Dinah Shore Show is an American variety show which was broadcast by NBC from November 1951 to January 1956, sponsored by General Motors' Chevrolet division. For most of the program's run, it aired from 7:30 to 7:45 Eastern Time on Tuesday and Thursday nights, rounding out the time slot which featured the network's regular evening newscast (John Cameron Swayze's Camel News Caravan), which, like all such programs of the era, was then only 15 minutes in length.
The program, broadcast live, featured Dinah Shore, who had come to prominence in her home state as a radio singer and the first Jewish cheerleader at Vanderbilt University before being "discovered" and subsequently appearing on national radio. She made a relatively easy transition to TV, as noted by the length of this program's run. As was the case with many live musical and variety programs of the era, it did not air during the summer months.
Uploaded on Oct 14, 2008
The Dinah Shore Show with Bobby Darin (1 of 6)
uploaded by
dentelTV2
.
The Dinah Shore Show with Bobby Darin (1 of 6)